If you are unsure what hotel in Moscow to choose, why not opt for one of these tried and tested favorites. The following five hotels are the most popular with Moscow Hotels customers...
71/3V, Izmailovskoe Shosse, Moscow, 105613, Russia
Show on map
8.79 km
Nearest metro:
Partizanskaya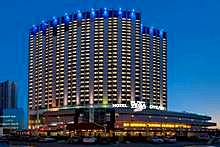 Of the four hotels that make up the Izmailovo Complex, which is perennially popular with Moscow visitors for its low-cost accommodation and convenient location just 20 minutes' ride from the Kremlin, the Best Western Vega offers the highest standards of accommodation and service. Our customers are constantly satisfied by the Vega's comfortable rooms and excellent service, all at extremely low rates.
»»»
5, Smolenskaya Ulitsa, Moscow, 119121, Russia
Show on map
2.81 km
Nearest metro:
Novokuznetskaya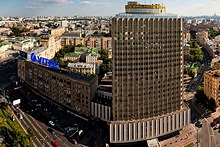 Our clients keep returning to the Golden Ring Hotel because it offers the best priced luxury accommodation in Moscow, and a fantastic central location next door to the city's lively Arbat street pedestrian zone. Guests continually praise the hotel for its tasteful and luxurious furnishings, its excellent range of in-house restaurants and its impeccable customer service. Corporate travelers are pleased with the hotel's Business Center and conference facilities, and all at very reasonable rates.
»»»
71, Izmailovskoe Shosse, Moscow, 105318, Russia
Show on map
8.92 km
Nearest metro:
Partizanskaya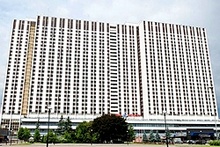 The Izmailovo Gamma Hotel is enormously popular with our clients because it offers the best low-cost accommodation in Moscow. Modern, cheep and cheerful, this hotel provides comfortable rooms at very reasonable rates. Visitors appreciate the hotels close proximity to a metro station only five stops from the Kremlin and Red Square. Our clients return to the Izmailovo time and again because of its excellent value, especially at our discounted room rates.
»»»
6/1, Shlyuzovaya Naberezhnaya, Moscow, 113114, Russia
Show on map
2.92 km
Nearest metro:
Paveletskaya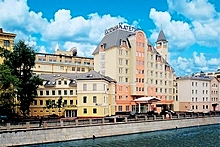 The stylish, Scandinavian-run Katerina Hotel has won a solid reputation as one of Moscow's best business-class hotels, and is popular with our customers thanks to its smart, innovative interiors, highly efficient service, and a great range of amenities including top-class conferencing facilities. Located in the southern centre, the Katerina Hotel is particularly convenient for the express rail-link to Domodedovo Airport.
»»»
32, Ulitsa Ostozhenka, Moscow, 119034, Russia
Show on map
2.33 km
Nearest metro:
Park Kultury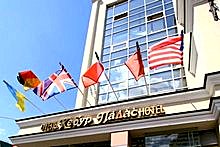 The Kebur Palace Hotel - formerly known as the Tiflis Hotel - has long been a firm favourite with our customers thanks to its friendly atmosphere, its superb central location within walking distance of the Kremlin, and its comfortable, attractive rooms and suites. The Kebur Palace Hotel is particularly recommended for the high quality of its customer service, and also boasts a particularly good range of services for business travelers.
»»»
1, Ulitsa Gostinichnaya, Moscow, 127106, Russia
Show on map
10.13 km
Nearest metro:
Petrovsko-Razumovskaya, Vladykino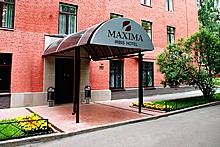 Although it is a fair distance from central Moscow, the Maxima Irbis, one of three similar Maxima Hotels, is rapidly gaining popularity with our customers for its stylish, low-cost standard accommodation and intelligently conceived amenities, providing maximum value for money, friendly service and modern, comfortable rooms, all in a pleasant, leafy district of northern Moscow, with good transport links to the downtown.
»»»
2, Teatralny Proezd, Moscow, 103012, Russia
Show on map
489 m
Nearest metro:
Lubyanka, Ohotny Ryad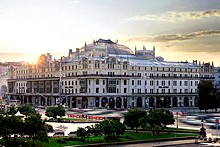 Behind Moscow's most stylish facade, the Metropol Hotel has been the epitome of luxury in the city for over a century. Despite the ever increasing competition, there's still nowhere quite like the Metropol for atmosphere and elegance, and that's what keeps our customers coming back there. Old-fashioned luxury and a superb location right next to Red Square and the Bolshoy Theatre make the Metropol one of Moscow's most famous and popular hotels.
»»»
3, Sheremetyevo, Khimkinsky Rayon, Moscow, 103339, Russia
Show on map
26.47 km
Nearest metro:
Rechnoy Vokzal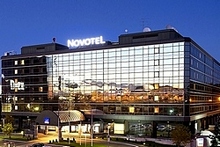 The Novotel Moscow Airport is extremely popular with our customers not just because it provides the most convenient accommodation for Sheremetyevo International Airport, but also because it offers stylish and spacious rooms, excellent business and leisure facilities, and a number of extra guest amenities to ensure that, despite the hotel's isolation, guests can still enjoy their stay in comfort and style. And it is only 200m to the airport.
»»»
3, Ulitsa Rozhdestvenka, Moscow, 103012, Russia
Show on map
693 m
Nearest metro:
Kuznetsky most, Lubyanka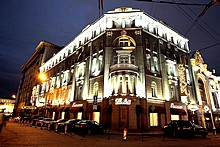 This small luxury hotel is one of the most beautiful and exclusive in Moscow, with a great location a few minutes' walk from the Bolshoy Theatre, and a rich history that stretches back to 1913. Extremely elegant interiors, a full range of 5-star business and leisure amenities, and unparalleled personalized service make the 67-room Savoy a firm favourite with customers who can afford to splash out on truly luxurious accommodation.
»»»
15, Ulitsa Sretenka, Moscow, 103045, Russia
Show on map
1.77 km
Nearest metro:
Sukharevskaya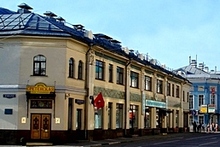 This charming, centrally located hotel is one of the most popular small hotels in Moscow with our guests, thanks to its delightful rooms and suites, its surprisingly extensive range of 4-star amenities, its unique, fairytale atmosphere, and its very high standards of customer service. For a hotel within Moscow's central Boulevard Ring, the Sretenskaya also offers great value for money, and our customers are brought back again and again by this winning combination.
»»»