Part of the Izmailovo Hotel Complex, built to house visitors to the 1980 Moscow Olympics, the Izmailovo Gamma Hotel is a low-cost tourist hotel offering clean, spacious accommodation and fast access to the centre of Moscow. Extensive business and leisure facilities are shared with the neighboring Izmailovo Delta Hotel.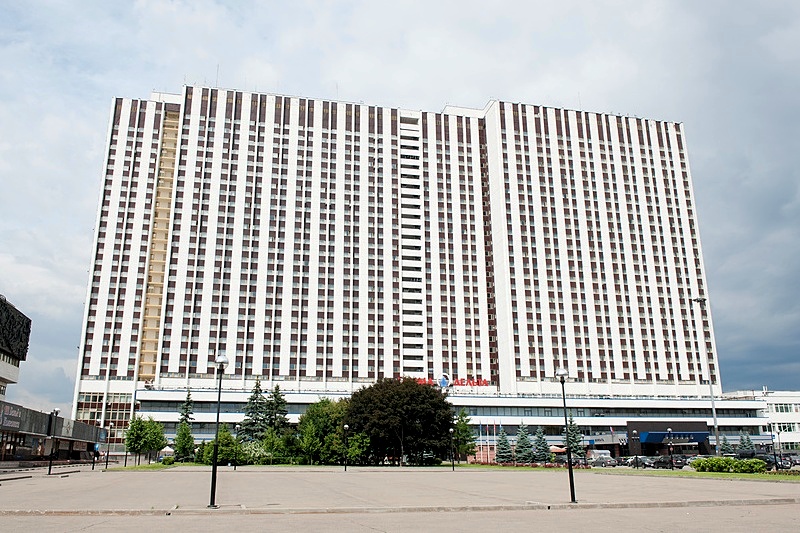 Why stay here?
Low-cost accommodation
Fast access to downtown Moscow
Great business and leisure services
In total, the Izmailovo Gamma has 996 guest rooms, all very inexpensive, with slightly dated but cheerful furnishings and décor, and a reasonable range of in-room amenities. The Izmailovo Gamma and Izmailovo Delta Hotels are in separate towers, but share the main entrance hall and all facilities, so guests have the choice of 13 separate restaurants and bars, a large fitness centre, sauna and swimming pool, a billiards club, an Internet cafe, and a professional concierge service. Facilities for business travelers include nine modern conferencing halls for up to 500 people.
Just across the road from Partizanskaya Metro Station, the Izmailovo Gamma Hotel is six stops from Red Square and the very center of the city. Of particular interest to tourists is the neighbouring Izmailovo Souvenir Market (held on weekends), one of the city's major tourist attractions due to its extensive array of traditional Russian gifts and souvenirs. Izmailovsky Park, the childhood home of Peter the Great, also boasts several interesting buildings dating from the 17th century.
Policies
| | |
| --- | --- |
| Check-in | From 14:00 |
| Check-out | Until 12:00 |
| Children | Children under 7 years stay free at the Izmailovo Gamma Hotel when using existing beds. Children under 4 also stay free with the use of a cot of crib. All additional guests are charged a fixed fee per night. |
| Pets | Pets are allowed on request free-of-charge. |
| Internet | Free WiFi Internet is available throughout the hotel. |
Key features
Spacious and well equipped rooms at very competitive room rates
Two minutes from the metro, less than 20 minutes from the Kremlin
Excellent business and leisure services in conjunction with the Izmailovo Delta Hotel