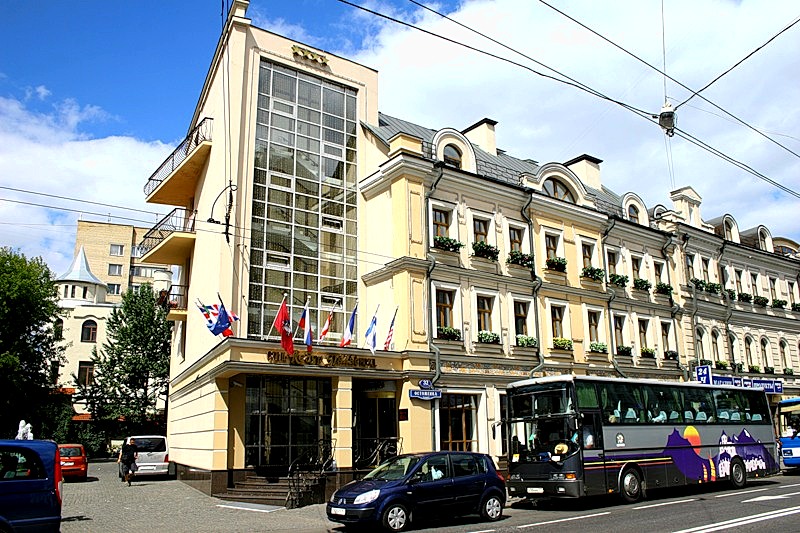 The Kebur Palace Hotel is a small, modern hotel with an extra touch of elegance, located in the very heart of Moscow, near the Cathedral of Christ the Saviour and the Pushkin Museum of Fine Arts. The surrounding area is a pleasant and peaceful part of the old city just a few minutes' drive to the west of the Kremlin and Red Square.

The 4-star Kebur Palace Hotel offers 79 smartly furnished and comfortable rooms with a full range of modern comforts, including individual air-conditioning and soundproof windows. Service is very attentive and the staff is friendly and multi-lingual. The hotel has some special features, including a charming private courtyard with a spectacular fountain that operates during the warmer months, and an excellent in-house restaurant serving quality European and Georgian cuisine. Although the Kebur Palace does not have a fitness centre, it does offer some Spa facilities.

Among the Kebur Palace Hotel's advantages are complimentary WiFi Internet access throughout the hotel and the hotel's proximity to several sights of interest, with it possible to walk from the hotel to Gorky Park, the 20th century collections of the Tretyakov in the Central House of Artists, and Moscow's famous Ulitsa Arbat pedestrian precinct, as well as the Kremlin and Red Square, all in little over 15 minutes. The only disadvantage of the hotel is that some guest rooms are extremely small.