Moscow's Marriot hotels, the first of which opened in 1997, include some of the best luxury hotels in the downtown area, as well as some of the city's better deluxe hotels, particularly geared to business travellers.
7, Voznesenskiy Pereulok, Moscow, 125009, Russia
Show on map
1.22 km
Nearest metro:
Ohotny Ryad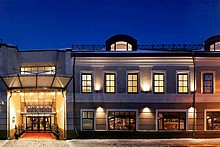 The newest Marriott property in Moscow, the 4-star Marriott Moscow Courtyard has a superb location between Tverskaya Ulitsa and Bolshaya Nikitskaya Ulitsa, just a few minutes' walk from the Kremlin and Red Square. The hotel has 218 well equipped and stylish guest rooms, and excellent business facilities including five modern meeting spaces. The Marriott Courtyard also has two restaurants and a 24-hour fitness centre.
»»»
26/1, Tverskaya Ulitsa, Moscow, 103050, Russia
Show on map
2.15 km
Nearest metro:
Mayakovskaya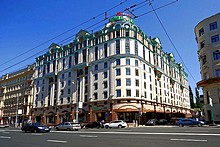 Situated on Moscow's central avenue, Tverskaya Ulitsa, around 2km from the Kremlin and Red Square, the Marriott Grand Hotel is geared to business travellers, with nine large modern meeting spaces, as well as 375 comfortable guest rooms, and a well equipped leisure centre. The Marriott Grand is conveniently located only a few steps from the nearest metro station.
»»»
11/20, Ulitsa Petrovka, Moscow, 103031, Russia
Show on map
1.04 km
Nearest metro:
Ohotny Ryad, Teatralnaya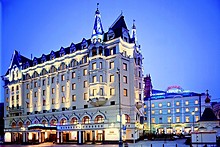 The brand's Moscow flagship, the Marriott Royal Aurora was long considered Moscow's finest luxury hotel, with location and architectural elegance to revival the city's older grand hotels, as well as modern services and facilities for business and leisure. Situated on historic Petrovka Ulitsa, the hotel is just a few steps from Red Square, the Kremlin, and the Bolshoi Theatre.
»»»
34, 1st Tverskaya-Yamskaya Ulitsa, Moscow, 125047, Russia
Show on map
3.30 km
Nearest metro:
Belorusskaya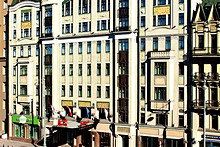 A smaller 4-star property further up Tverskaya Ulitsa, Moscow's major central thoroughfare, the Marriott Tverskaya is an attractive deluxe hotel with 163 elegantly furnished guest rooms, good conferencing and meeting facilities, and restaurant and fitness facilities that fully conform to international standards. The Marriott Tverskaya is just a couple of minutes' walk from Belarussky Metro Station.
»»»