Moscow's first Holiday Inn opened in 1999, and the chain has rapidly grown to be the biggest in the city, offering reliable 4-star accommodation and services at five locations. In a few years, Moscow will see the opening of the biggest Holiday Inn in the world.
15, Lesnaya Ulitsa, Moscow, 125047, Russia
Show on map
3.50 km
Nearest metro:
Belorusskaya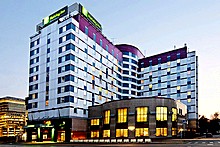 Located close to Belorussky Metro Station in central Moscow, the Holiday Inn Lesnaya is a 301-room deluxe hotel offering well equipped and surprisingly attractive accommodation as well as excellent business and meeting facilities, plus other 4-star essentials including 24-hour gym and stylish restaurant-bar. The location makes the hotel convenient for Sheremetyevo Airport while still within minutes of the downtown.
»»»
24, Rusakovskaya Ulitsa, Moscow, 107014, Russia
Show on map
5.22 km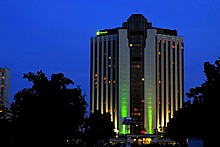 With 523 spacious and stylish rooms and suites, the Holiday Inn Sokolniki is currently Moscow's biggest Holiday Inn. The hotel is located just north-east of the downtown, close to historic Sokolniki Park and Sokolniki Exhibition Centre. Excellent business and meeting facilities are available, as are a wide range of dining options and a large fitness centre. Right opposite the metro, the hotel offers fast access to the very centre of Moscow.
»»»
74, Ulitsa Suschevsky Val, Moscow, 129272, Russia
Show on map
4.19 km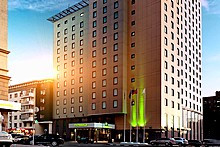 Located a few steps from the beautiful Rizhsky Metro Station, the Holiday Inn Suschevsky has excellent transport links to the city centre, and offers 312 well-equipped guest rooms with surprisingly stylish contemporary interiors. The hotel is also fully equipped with 4-star business and leisure amenities including eleven hi-tech meeting spaces, a spacious cafe-restaurant, and a 24-hour gym.
»»»
171, Dmitrovskoe Shosse, Moscow, 127204, Russia
Show on map
21.74 km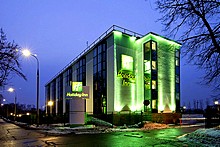 Situated just north of the Moscow Ring Road and within 15 minutes' drive of Sheremetyevo Airport, the Holiday Inn Vinogradovo serves dual functions as an airport hotel and a suburban conferencing venue, with a wide range of meeting facilities and excellent business facilities. The hotel has 150 well equipped rooms, and also offers a huge range of indoor and outdoor sports and leisure facilities.
»»»
2, Simonovsky Val, Moscow, 115088, Russia
Show on map
3.64 km
Nearest metro:
Proletarskaya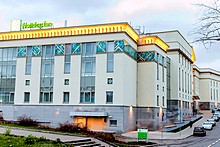 Opened in 2009, the Holiday Inn Simonovsky continues the success of the brand in Moscow, offering stylish deluxe accommodation in 217 spacious and well equipped rooms, as well as extensive superior meeting spaces, a stylish restaurant and lobby bar, and a 24-hour gym. The Holiday Inn Simonovsky is housed in an attractive low-rise building close to the Moskva River, Proletarskaya Metro Station, and two historic monasteries.
»»»