The Holiday Inn Moscow Suschevsky is a modern superior hotel located just north of Moscow's city center, next to the beautiful Riga Railway Station, a classic of late 19th architecture which also houses a railway museum.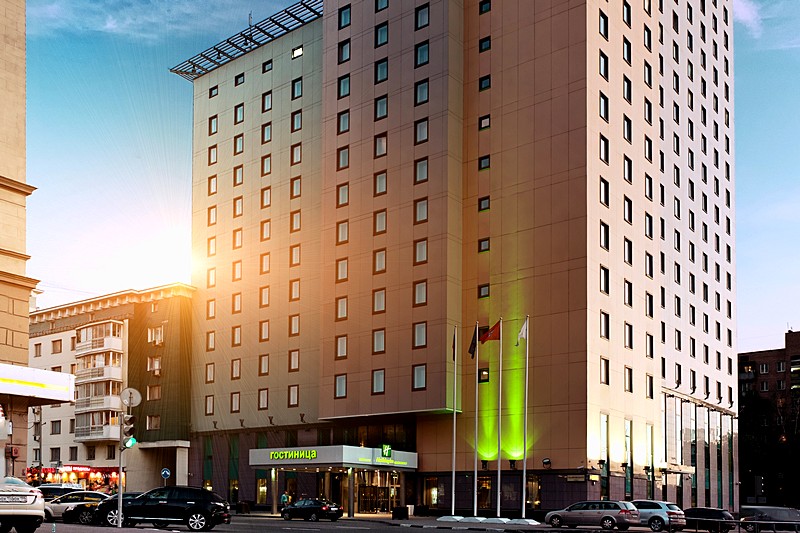 Why stay here?
Excellent business services
Value superior accommodation
Excellent transport links
Holiday Inn has become the biggest international presence in the Moscow hotel market, providing reliable accommodation and services at prices that are very reasonable by Moscow levels, and the Holiday Inn Suschevsky is one of the most attractively located of the chain's properties in Moscow. Offering 312 guest rooms and suites in a 16-storey new-build, the hotel was opened in 2006 and boasts stylish accommodation, comprehensive business facilities including eleven hi-tech modern meeting spaces, and a standard range of concierge and leisure services including gym. On-site dining comes in the form of a single multi-purpose cafe-restaurant.
Considering the standard of accommodation on offer (which is considerably higher than visitors used to Holiday Inns in North America and Europe might expect) and the convenient location, the Holiday Inn Suschevsky is very competitively priced, although extras such as Internet access do not come cheap.
Located just north of Prospekt Mira and around 4.5km from the Kremlin, the Holiday Inn Suschevsky has excellent public transport links, with Rizhskaya Metro Station only 200m from the hotel, making it possible to reach major downtown visitor attractions like Red Square, the Kremlin and the Tretyakov Gallery in little over 20 minutes.
Policies
| | |
| --- | --- |
| Check-in | From 15:00 |
| Check-out | Until 12:00 |
| Children | Children under 12 years of age stay free at the Holiday Inn Suschevsky when using existing beds. Children under 2 years are also free with the use of a cot or crib. All older children or additional guests stay free of charge. |
| Pets | Pets are allowed at the Holiday Inn Suschevsky free of charge. |
| Internet | Free WiFi Internet Access is available in public areas of the hotel. WiFi Internet Access and Wired Internet are available in guest rooms for a 24-hour fee. |
Key features
Reasonably priced, modern superior accommodation
Superior business and meeting facilities
Very convenient for trains to/from Riga
Excellent transport links to all of Moscow