The 150 guest rooms at the Bega Hotel have all recently been renovated and now fully conform to international 3-star standards, with amenities including air-conditioning and WiFi Internet access. Some rooms on the upper floors of the hotel have slightly higher rates for the excellent views they offer of the Hippodrome. Buffet breakfast is included in all room rates.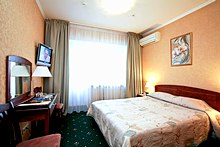 These rooms have an 18-square-meter floor plan and cozy interiors with dark-wood furnishings and large windows.
More details ›››
Located on the top floors of the hotel, these 18-square-meter guest rooms feature lovely views of the Moscow Hippodrome.
More details ›››