A Russian visa is a document required by foreign travelers (except those enjoying visa-free travel) who wish to enter the Russian Federation. It now almost universally takes the form of a sticker covering one page of a standard passport.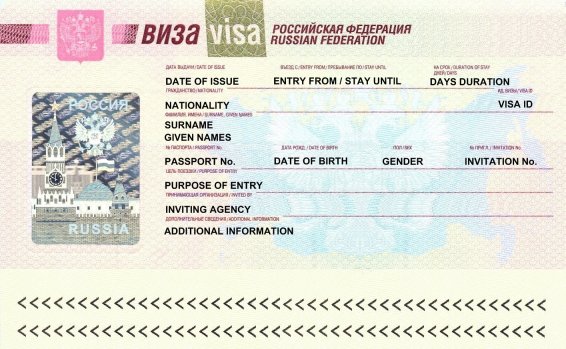 Russian visa
As you can see in the image above, the visa includes your personal details, the dates and the number of days for which the visa is valid, the purpose of your visit to Russia, the inviting agency (the organization which is sponsoring your visa), and whether the visa permits you to visit Russia once, twice or several times (single-entry, double-entry or multi-entry).
The most common type of Russian visa – and the type that Moscow Hotels can help you to obtain – is a standard Russian Travel Visa or Tourist Visa. Single-entry (double-entry is available in some cases/countries) and valid for up to 30 days, this type of visa satisfies the needs of most travelers, and does not necessitate obtaining an official invitation, which can be a time-consuming process.
Please note: US citizens should note that all travelers, including those applying for Tourist Visas, are now routinely issued with three-year multi-entry visas.
A Russian Tourist Visa gives you the right to travel anywhere in the Russian Federation, with the exception of a few strategically important areas that are closed to foreigners or that require special permission to visit. You are required to give details of your planned itinerary in Russia when filling in your visa application form, and you should have accommodation booked for any destination that you include. Once you have obtained a Russian Tourist Visa, however, you are within your legal rights to change your itinerary and travel to destinations not stated on your original application. You can find out more about to traveling to multiple locations in Russia here.
The main requirement to apply for a Russian Travel Visa is proof that you have booked accommodation in Russia for the dates you intend to visit, presented in the form of a Tourist Voucher and Tourist Confirmation (these are the visa support documents that Moscow Hotels issues free-of-charge to all clients). Faxed or scanned copies of these documents are accepted by most Russian visa centers and consular departments, although the citizens of some Asian and African nations are required to represent the original documents stamped and signed.
Most travelers also require travel insurance valid in Russia for the dates of their visit, and should provide proof of this along with their visa application. You will also need to complete, print and sign the correct application form (accessible here, submit one or two passport-size photos, and ensure that your passport has at least two clean pages and is valid for at least six months after the proposed end date of your trip to Russia.
The exact requirements for visa applications vary from country to country – British and Danish citizens, for example, now have to attend a Russian Visa Center in person in order to give their fingerprints when applying for any type of Russian visa – so, before you apply, you check with your local visa center or consular department to confirm exactly what documents and other criteria are required to make your Russian visa application.