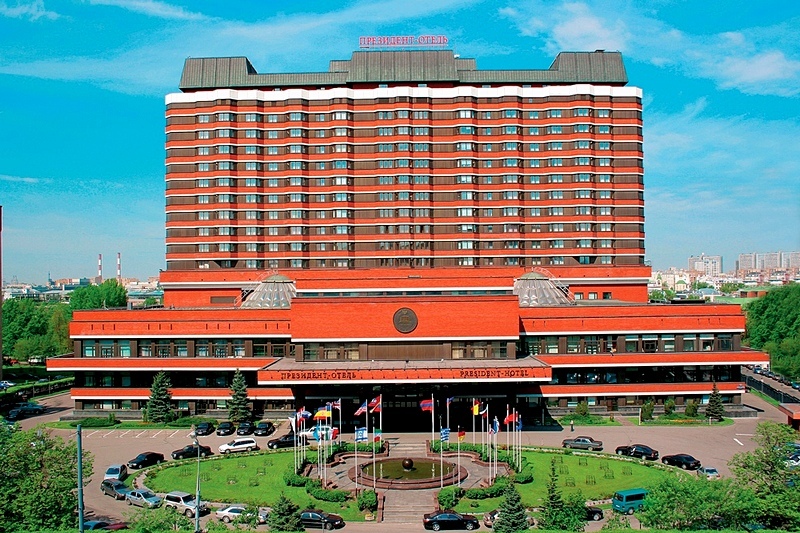 Located on the southern bank of the Moskva River, close to the Tretyakov Gallery and Gorky Park, the President Hotel offers some of the best value five-star accommodation in Moscow, and is also one of the city's most unusual luxury hotels, owned and run by the Administrative Department of the Russian President and used to accommodate high-ranking visiting officials and diplomats. While it lacks the polish and glamour of some of the bigger name hotels in the city, it does have many unique advantages that make it worth considering.

The President Hotel offers 210 spacious rooms, all boasting good technical amenities and comfortable modern furnishings. The cheapest rooms have not recently been renovated, so expect slightly gloomy interiors, although all bathrooms are modern. Rooms facing the river have fantastic views over downtown Moscow. The Hotel can also boast some of the most extensive and impressive MICE venues in Moscow, with halls seating up to 500 guests and excellent technical facilities. The President Hotel's leisure center is also well equipped, with two saunas, a pool and modern gym, and on-site dining, though somewhat unimaginative, is of good quality and not expensive. The hotel can also lay claim to being the most secure in Moscow - you have to pass through a guarded turnstile at the entrance to the grounds - and this also ensures the hotel is very quiet and peaceful.

The President Hotel is around 1 km from the Kremlin, a comfortable and picturesque walk across the river, and adjacent to the historic Zamoskvoreche district, which has several beautiful old churches.