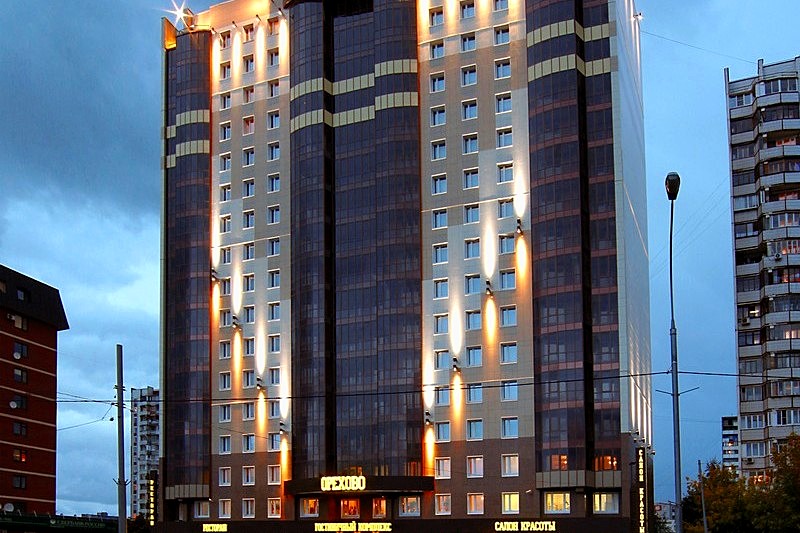 Located not far from a metro station in southern Moscow, the Orekhovo Hotel is a large and modern apartment hotel offering low-cost self-catering accommodation and reasonably fast transport links to the historic centre and to Domodedovo International Airport.

The Orekhovo Hotel has over 400 rooms of different types, including fully equipped and recently renovated apartments and very low-cost block rooms with shared bathroom and kitchen facilities. As well as accommodation, the Orekhovo Hotel, which has long-term contracts with several major Russian and international firms, offers a wide range of business services, among them a well equipped business centre with two meeting spaces. While self-catering is one of the main advantages of the hotel, there is also a bar and restaurant on-site, with buffet breakfast served daily. The hotel has plenty of guarded street parking, and guests can be reassured that a proper 24-hour security service is in operation at the hotel. WiFi Internet is now available free-of-charge, covering all of one building of the hotel and the lobby area of the second building.

The Orekhovo Hotel is located in a modern residential district about 15km south of the Kremlin and Red Square. Fortunately, as the hotel is only five minutes' walk from Orekhovo Metro Station, it is possible to get to the downtown in little over 30 minutes. The Orekhovo is also convenient for Domodedovo Airport, which is only 40 minutes' drive from the hotel. Right across the road from the hotel is Tsaritsyno, one of Moscow's most beautiful historic parks, with a magnificent pseudo-Gothic palace built for Catherine the Great.