The Okhotnik Hotel offers guests the use of a simple canteen-style bar and restaurant, which is open during the day for breakfast and snacks. In the evening can order the same fare on room service. There is also a full-service restaurant (under separate management) in the same building as the hotel.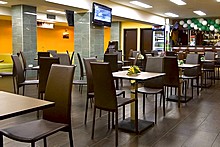 A relaxed restaurant and bar, the Okhotnik serves breakfast and a menu of drinks and snacks through the day.
More details ›››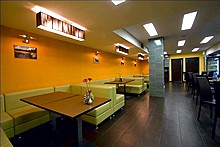 A traditional restaurant with a hunting theme, Okhotnik Cafe serves a menu of Russian and Azerbaijani cuisine.
More details ›››