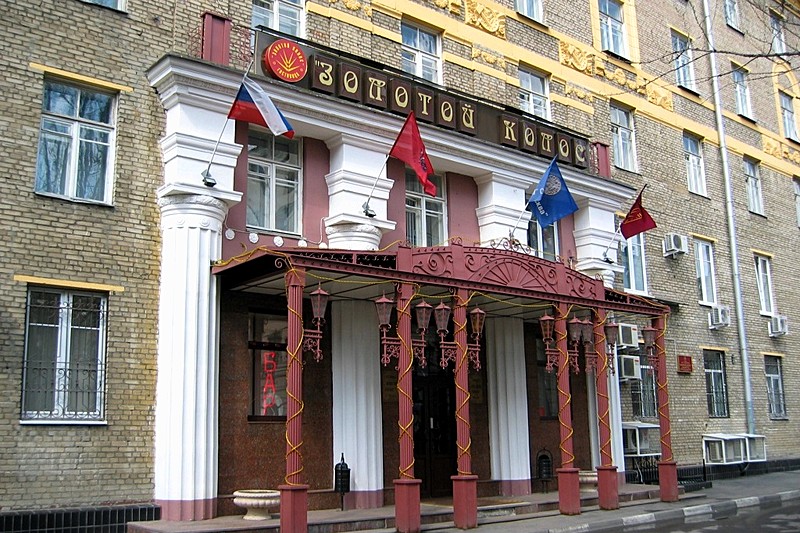 A budget hotel located in the north of Moscow, close to the All-Russian Exhibition Centre, the Zolotoy Kolos Hotel dates back to the 1950s and covers six buildings with a wide range of accommodation options. The Zolotoy Kolos is only really recommended for travelers with reasonable Russian-language skills.

The Zolotoy Kolos is a partially renovated hotel with 304 rooms in different classes, ranging from basic, unrenovated Economy Rooms that provide some of the cheapest hotel accommodation in the city, to more modern Comfort and Business Class rooms, also fairly. All rooms are spacious, and even Economy Rooms at the Zolotoy Kolos are equipped with fridges. Some rooms have shared bathroom facilities, and some have now been turned into hostel-style accommodation, with large communal bathrooms. The Zolotoy Kolos can also offer an extensive range of ageing facilities for business and leisure, including a fitness centre with gym, sauna and small swimming pool, basic business services and a conference hall.

Alongside the All-Russian Exhibition Centre, which features some spectacular architecture and monumental sculpture of the Soviet era, other places of interest within walking distance of the Zolotoy Kolos include the magnificent Space Obelisk, which stands on top of the Cosmonautics Memorial Museum, and Ostankino Park, which has a beautiful wooden palace that houses an impressive collection of traditional Russian arts and crafts. It is around five minutes' walk from the Zolotoy Kolos to VDNKh Metro Station, and from there guests can be in the very centre of Moscow in under 20 minutes.