Guests at the Tatiana Hotel are well catered for well it comes to dining at the hotel. Not only does it offer a main restaurant, serving Spanish cuisine, with a good reputation among the general public in Moscow, but there is also a French-style cafe, and an elegant lobby bar. Breakfast is served daily for all guests in the main restaurant between 7am and 10am (8am to 11am at weekends).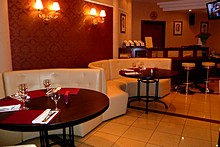 The Tatiana Hotel offers a small French Café serving snacks, drinks and coffee.
More details ›››
A spacious dining hall, the Tatiana Restaurant services a range of European and Russian cuisine with a unique Spanish influence.
More details ›››