Opened in March 2010 in an attractive new-build next to Moscow's Central Hippodrome, the Renaissance Moscow Monarch Centre is a modern luxury hotel located not far from Moscow's downtown, offering international-standard five-star accommodation and a superior range of business services.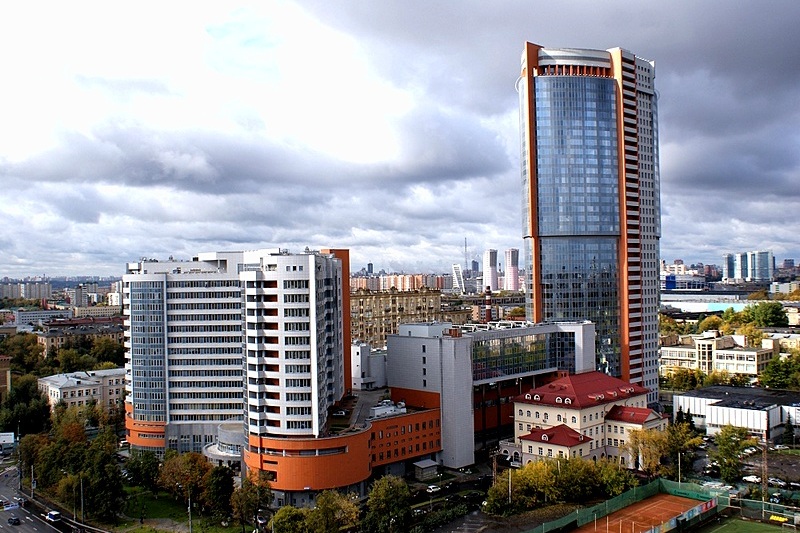 Why stay here?
Modern deluxe business hotel
Superb meeting facilities
Convenient for Sheremetyevo
A short distance to the north-west of the city centre, the Renaissance Moscow Monarch Centre is close to public transport links (including the Aeroexpress rail link to Sheremetyevo International Airport), making it possible to access key visitor attractions including Red Square and the Kremlin in a little over 20 minutes. The hotel is also convenient for the city's Expocenter and World Trade Centre. Firmly targeted at business travelers, the Moscow Monarch Centre boasts of having the largest meeting and event space in central Moscow, with eight hi-tech and stylish halls covering over 1500 square meters. Accommodation, meanwhile, is spacious and very comfortably appointed, with excellent technical facilities and attractive contemporary decor.
Other facilities at the hotel include a sleek modern fitness centre with well-equipped gym and indoor swimming pool, two restaurants and a lobby lounge providing a wide range of in-house dining options, and a full range of superior business and leisure amenities including WiFi Internet access throughout the hotel. For guests who wish an extra level of comfort and convenience, the Renaissance Moscow Monarch Centre's Executive Level provides a range of extra amenities and complimentary services.
Policies
| | |
| --- | --- |
| Check-in | From 16:00 |
| Check-out | Until 12:00 |
| Children | Cribs and cots are available free for children under two. Extra beds for all other children and adults are also free-of-charge. |
| Pets | Pets are allowed on request, free-of-charge. |
| Internet | Free WiFi Internet Access is available in public areas of the hotel. In hotel rooms, WiFi is charged, with hourly and daily rates. |
Key features
Convenient for Sheremetyevo and downtown Moscow
Very modern 5-star business hotel
Extensive conferencing and event facilities