The 104 guest rooms at the Okhotnik Hotel are all spacious and comfortable, with stylish contemporary interiors that feature modern designer furniture and warm, welcoming colour schemes. All rooms are equipped to a high level of technical specifications, with Wi-Fi and air-conditioning throughout.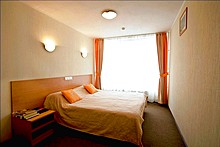 Measuring a compact 15 square meters, these Standard Double Rooms at the Okhotnik Hotel have attractive modern interiors and king-size bed.
More details ›››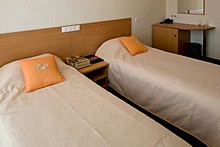 Fitted with twin single beds, these Standard Rooms at the Okhotnik Hotel are compact at 15 square meters, with simple furnishing and attractive modern interiors.
More details ›››