Because there isn't much nearby dining around the Holiday Inn Moscow Vinogradovo, it is fortunate that there are two reasonable restaurants on-site. Guests can enjoy traditional Russian cuisine at the hotel as well as a range of international cuisine.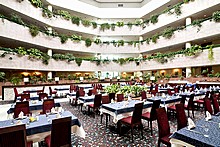 Located in the Holiday Inn's atrium, with glass ceiling and winter garden, the Atrium Cafe serves the hotel's buffet breakfast, as well as lunch and dinner a la carte.
More details ›››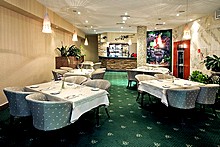 The Holiday Inn Vinogradovo's fine-dining restaurant serves a mix of Russian and pan-European cuisine.
More details ›››