The Holiday Inn Moscow Sokolniki is well prepared for guests who wish to dine at the hotel, with two very different restaurants, plus a bar and grill. Room service is available at the hotel 24-hour, and buffet breakfast is served daily in the Moskva Restaurant.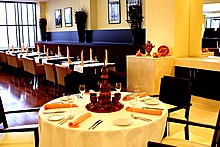 The hotel's main restaurant, Moskva has 450 seats and serves a nice menu of traditional Russian and European cuisine.
More details ›››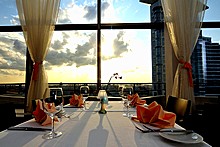 Elegant dining at the Holiday Inn Moscow Sokolniki Hotel's ANT-25 restaurant. Discover ANT-25 and other restaurants at the 4-star Holiday Inn Sokolniki in Moscow.
More details ›››