The choice of restaurants at the Golden Ring Hotel is quite limited, but the hotel's location at the end of Ulitsa Arbat means that guests are hardly short on choice for excellent and very varied eateries in the immediate vicinity. The main advantage of dining at the hotel are the impressive views from the 22nd and 23rd floors.
Buffet breakfast is served in the Suzdal Banqueting Hall on the first floor of the hotel daily from 7am to 11am.
The main restaurant at the Golden Ring, this 23rd-floor eatery offers fine dining and impressive views over the downtown.
More details ›››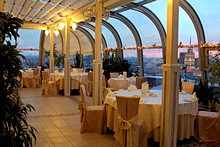 Under a glass roof on the 22nd floor of the hotel, the Golden Ring's second restaurant serves Italian cuisine and a variety of culinary events.
More details ›››