The Golden Ring has 293 rooms offering a wide range of deluxe accommodation, divided into two basic classes. While design is not exactly cutting edge, the hotel does offer a full range of five-star comforts and amenities throughout at very reasonable prices. All beds have orthopedic mattresses, and the hotel offers guests a choice of pillow types for extra comfort. Rooms with special facilities for disabled travelers are also available.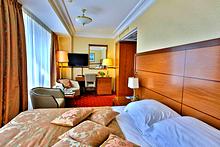 These 26-square-meter double rooms are comfortably fitted, with large windows and bathrooms and a full complement of technical amenities.
More details ›››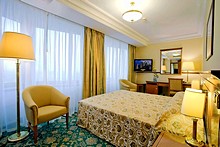 Twin or double accommodation is available in the Golden Ring's 29-square-meter Deluxe Rooms, which all boast large windows and good technical amenities.
More details ›››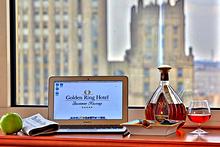 There is only one Studio at the Golden Ring, and it is a brightly-colored space measuring 35 square meters, with king-size bed and a small bar.
More details ›››