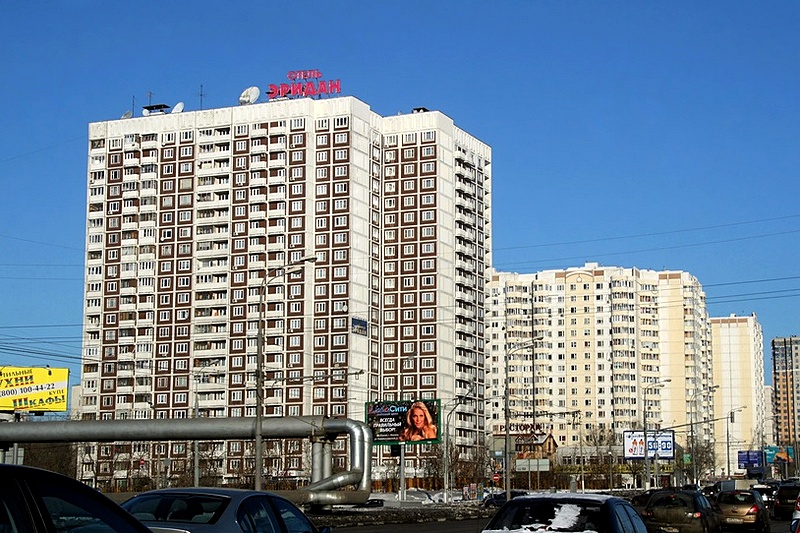 The Eridan-1 Hotel is Moscow's first real apart-hotel, offering comfortable self-catering accommodation in modern apartments at prices similar to standard rooms in many 3-star hotels.

Occupying a 22-storey tower-block in the south of Moscow, the Eridan-1 Hotel has 160 apartments, ranging from studios to spacious three-bedroom apartments with sleeping for up to five guests. All flats feature reasonably attractive modern furnishings, fully equipped kitchens, satellite TV, and hi-speed Internet on demand. Apartments at the Eridan Hotel can be rented by the month or by the night, and the hotel offers basic concierge and business services at reception, as well as restaurant and bar. Particularly for small groups and families, the Eridan-1 Hotel represents a very economical way of staying in Moscow in reasonable comfort.

The Eridan-1 is located in a modern residential area of Moscow, about ten minutes' walk from Chertanovskaya Metro Station. From there it is a 20-minute ride to Borovitskaya, next to the Kremlin in the very centre of Moscow. While the area around the hotel is not particularly appealing for visitors, it is only a short walk to Bittsevsky Park, one of Moscow's largest and most beautiful green spaces.