The Derzhavnaya is a low-key 3-star hotel offering comfortable and inexpensive standard accommodation at a convenient location five minutes' walk from VDNKh Metro Station. The hotel is not particularly popular with foreign guests, and English-language service can be a problem, but the Derzhavnaya is worth considering for travelers who need to be in this area and who value peace and quiet.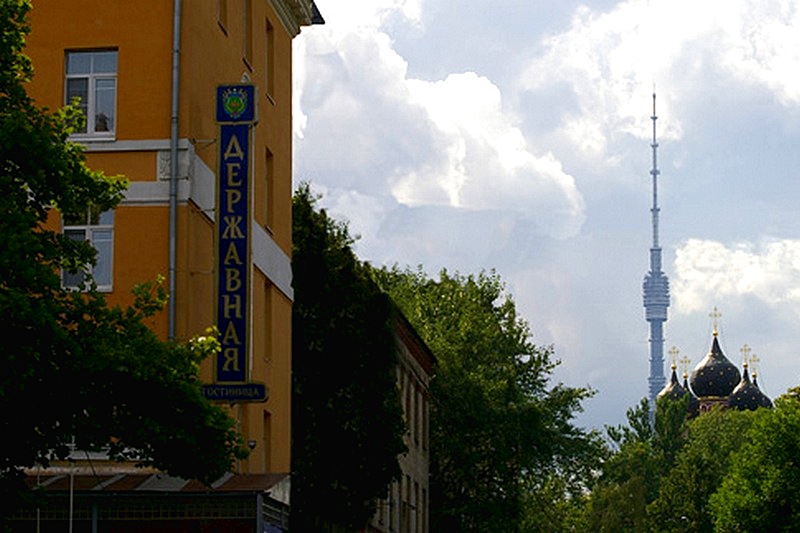 Why stay here?
Close to VVTs/VDNKh
Low-cost standard accommodation
Peaceful residential atmosphere
The Derzhavnaya Hotel has seventy guest rooms spread over five floors in an attractive modern building with its own car-park set back from the street next to a small garden. Rooms are simply but tastefully furnished and fitted, and all have standard amenities including WiFi Internet access, which is free-of-charge throughout the property. The hotel also offers basic concierge services, and has a small cafe open 24-hour.
The Derzhavnaya is located north-west of central Moscow, around 8km from the Kremlin and Red Square. The hotel is only a short walk from the famous VVTs exhibition park, with its spectacular array of Stalinist architecture and monuments, and between the historic parks at Ostankino and Sokolniki. From VDNKh Metro Station, it is only 15 minutes' ride to Kitai-Gorod Station, a short walk from Red Square in the very centre of Moscow. Convenient for business travellers and tourists, the Derzhavnaya is a good-value hotel with a relaxed, homely atmosphere.
Policies
| | |
| --- | --- |
| Check-in | From 12:00 |
| Check-out | Until 12:00 |
| Children | All children under 7 years of age stay free at the hotel when using existing beds. All older children are additional guests are charged a fixed rate per night. |
| Pets | Pets are allowed on request free of charge. |
| Internet | Free WiFi Internet is available throughout the hotel. |
Key features
Located a few minutes' walk from the All-Russia Exhibition Centre (VVTs/VDNKh)
Simply furnished and well equipped modern 3-star accommodation at quite low rates
Peaceful atmosphere away from major roads, with Russian business travelers as fellow guests