There are 82 guest rooms at the D'Hotel, all of them decorated in a simple contemporary style and fitted with modern conveniences including air-conditioning, satellite TV, and WiFi access. Rooms for disabled guests and non-smoking rooms are available.
The D' Hotel's Standard Rooms are compact, measuring approximately 14 square meters, and have soft interior decor in shades of blue, green or yellow.
More details ›››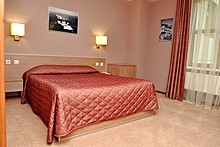 Measuring 22 square meters, Superior Rooms have similar contemporary décor to Standard Rooms, and also offer twin or double accomodation.
More details ›››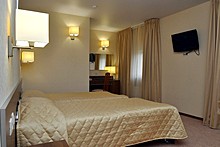 While these rooms at the D' Hotel are rather small, at 14 square meters, they are specially fitted for guests with limited mobility and have low beds.
More details ›››