Swissotel pride themselves on their fresh, distinctive properties and thoroughly modern approach to five-star luxury. Their presence in Moscow is unmissable, thanks to one of the most striking contemporary buildings in the city centre.
52, Building 6, Kosmodamianskaya Naberezhnaya, Moscow, 115054, Russia
Show on map
2.69 km
Nearest metro:
Paveletskaya, Taganskaya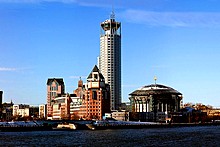 Located on the banks of the Moskva River in a thriving commercial district, the Swissotel Krasnye Holmy is a stunning modern tower offering spectacular views up-river to the Kremlin and Red Square. The hotel's interior is equally sleek and stylish, with accommodation and meeting facilities all featuring beautifully executed modern designs. The fitness centre and dining options are similarly state-of-the-art.
»»»