Radisson set the standard for luxury hotels in Moscow through the nineties and, while their first property is no longer the market-leader that it was, the brand's plans for the next few years promise a definite revival.
2/1 Building 1, Kutuzovsky Prospekt, Moscow, 121248, Russia
Show on map
3.58 km
Radisson's new Moscow flagship hotel, the Radisson Royal Hotel has a spectacular location in the building that used to house the Ukraina Hotel, a magnificent Stalinist skyscraper on the banks of the Moskva River. The Radisson Royal offers an excellent combination of luxurious accommodation, superior business and leisure facilities, and convenient access to both downtown visitor attractions and key business locations such as the World Trade Centre and the Expocenter.
»»»
2, Ploschad Evropy, Moscow, 121059, Russia
Show on map
3.78 km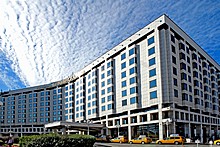 Opened in 1991, the Radisson Slavyanskaya is beginning to show its age a little, but still offers deluxe accommodation and five-star business and leisure services. Housed in a modern building with a riverside location a few steps from Kievsky Railway Station, the Slavyanskaya offers 410 rooms and suites, plus some of the best conferencing facilities in Moscow, and a large fitness centre with a 25m pool.
»»»