Although parent company Rezidor is rapidly becoming the leading hotel operator in Russia, their deluxe Park Inn brand is only modestly represented in Moscow, with one mid-size hotel that nonetheless offers inexpensive and very comfortable accommodation.
17, Bolshaya Polyanka, Moscow, 119180, Russia
Show on map
1.70 km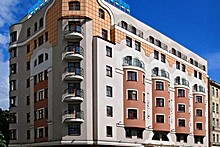 Situated in the southern centre of Moscow, close to the Tretyakov Gallery, the Park Inn SADU is a new-built 117-room deluxe hotel providing brightly decorated modern accommodation with a full range of technical amenities, as well as limited meeting space and a good restaurant. The Park Inn SADU is conveniently located only a few steps from Polyanka Metro Station.
»»»
Vladenie 1, Mezhdunarodnoye Shosse, Sheremetyevo, Khimki Area, Moscow Region
Show on map
26.49 km
Nearest metro:
Rechnoy Vokzal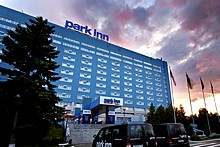 Offering good-value accommodation only a few minutes' walk from the south terminals at Sheremetyevo Airport, Park Inn's second Moscow property has recently undergone a full refit, and now offers international-standard 3-star accommodation and a comprehensive range of services for business travelers. There is also a free shuttle to all terminals at Sheremetyevo.
»»»