For those who prefer their luxury a little less ostentatious and a little more laid-back, Park Hyatt's range of modern, stylish hotels offer sumptuous accommodation and superb service in a relaxed, residential atmosphere.
4, Neglinnaya Street, Moscow, 109012, Russia
Show on map
661 m
Nearest metro:
Lubyanka, Kuznetskiy Most, Teatralnaya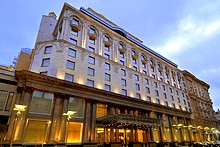 Situated in the very centre of Moscow, just a few minutes' walk from Red Square, the Ararat Park Hyatt is one of the city's most popular (and pricey) five-star hotels. Stylish and spacious guest rooms, fitted with a full range of state-of-the-art amenities, are combined with prestigious conferencing facilities, excellent and varied in-house dining, and a pampering Spa and fitness center.
»»»