The rooms at the Atlanta Sheremetyevo Hotel are small but cozy, with a warm, homely feel that matches the hotel's cottage design. Nonetheless, they are fully equipped with modern technical facilities, including individual climate control and WiFi throughout. Non-smoking rooms are available in all categories.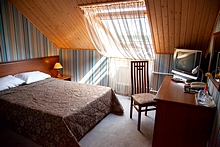 The Atlanta Sheremetyevo Hotel's Loft Rooms are compact 13-square-meter double rooms with sloping ceilings and stylish, cozy interiors.
More details ›››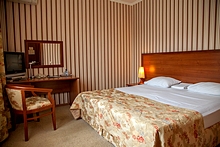 Standard Rooms at the Atlanta Sheremetyevo Hotel are well-furnished and have cozy interiors featuring décor in soft earth tones. Guests can choose a king-size bed or twin beds.
More details ›››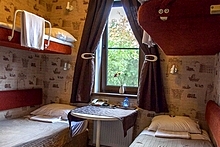 A unique feature of the Atlanta Sheremetyevo Hotel, these economy rooms sleep four in the style of a sleeping carriage on a Russian train.
More details ›››