The 225 rooms and suites at the Aquarium Hotel are all modern and attractive, with stylish minimalist interiors in soft, warm colours, smart modern furniture, and a full range of technical amenities including hi-speed Internet. All rooms at the Aquarium feature floor-to-ceiling windows, and many have pleasant views over the Moskva River. Buffet breakfast is included in all room rates.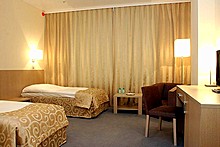 Measuring between 16.5 and 33.5 square meters, the Aquarium's Standard Rooms provide spacious twin or double accommodation.
More details ›››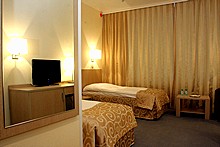 These rooms facing north and west from the hotel have the advantage not only of more scenic views, but also of less noise from events at Crocus Expo and the concert hall.
More details ›››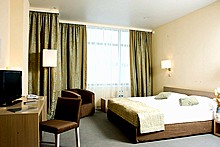 Studios at the Aquarium Hotel have an open-plan layout measuring 20-30 square meters and are furnished in a traditional style.
More details ›››